At WordHound, we have words for all occasions! So whether it's top-notch professional copy for your website, the answer to all of life's questions in blog form, or improved SEO to bump your site up the search engine rankings, we'll supply the right words for the job. Here's some info about us…
Angela and Simon worked at an online creative agency for several years, communicating largely via dog memes and appalling puns. The time came for a change, and – as if by magic* – WordHound was born. Contact Angela today to see how we can help you.
*No actual magic was performed during the creation of WordHound. WordHound Ltd is simply a provider of content writing and white label content writing services.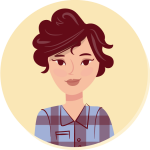 Angela Squires
Angela is interested in just about everything. When she discovered a role that allowed her to talk to a variety of people, then read blogs about endless topics from floor tiles to GDPR, it felt like a perfect fit. She's been doing it for a while now, so it will take a lot to surprise her, but she will still be keen to hear about you and turn your info into the perfect content brief.
When she's not working at WordHound HQ beside office dog Ronnie, you are likely to find Angela climbing sea cliffs, camping on the moors, or getting tangled up trying to master the art of aerial silks. Maybe one day it will look graceful…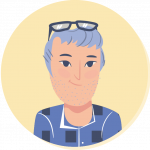 Simon Fitzpatrick
Simon is a writer-turned-editor, and project director for WordHound. Having tired of the rain in Dublin while working as a dialogue editor in 2011, he moved to Greece and found it was possible to make a living by writing.
Simon has vowed to stop buying guitars. Five Seven Eight *ahem* is enough. It's not a vow he really believes he'll be able to keep. When he's not dipping his weird toes in the sea off Crete, he likes to ride his ancient Africa Twin around the western (i.e. best) part of the island, marvelling at the fact that everyone else has one too.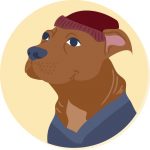 Ronnie Barker
Ronnie takes his self-appointed role of meet and greeter very seriously, but it's a tiring job, so you will mostly find him upside down, snoring loudly, almost exactly in the way of something.
About The Writing Team
Our content writing team is magnificent. Just thinking about their skills makes us well up. They all have a few things in common; our writers all have English as their first language, for example, and all have been forged in the white-hot intensity of the content furnaces, rendering them impervious to pain and… well, very good at writing.
At the last count, at least two of them had PhDs, with a possible third on the horizon. Those that don't have PhDs are brainy in innumerable other ways, as you'd hope. Some of them have been publishing their own highly successful blogs for years, while undertaking freelance writing for global travel companies and the like. Not so much to put food on the table; more to increase the quality and quantity of the food, and the sturdiness and elegance of the table.
Others have taught English in far-off lands while crafting gripping short stories as a sideline. Still others know more about Ancient Greece than might be deemed strictly necessary, even by those with a normal level of interest in the topic. And yet, they're capable of writing 2,000 words of coherent – even mildly entertaining – material on the subject of pneumatic valves.

Then there are those writers who'll be tasked with writing about something that none of us – including the client – can be expected to understand. They'll tense up briefly, ask some pertinent questions (occasionally employing impertinent language) and set to work. The end result will explain the topic in such clear terms that even the client will understand it!!!
Travel writers, you say? Yep, we have loads of them too. Our travel writers have worked for numerous household name companies. These include… well, let's just say you'll have heard of them, and will almost certainly have used most of them too.
Whether it's 800 words of rib-tickling vulgarity on the history of rude jokes, 650 descriptions of frankly quite similar-looking rugs, 250,000 words describing the unutterable joy to be had visiting the world's most welcoming tourist destinations, a monthly 500-worder on seemingly-impenetrable financial things that everyone should know by the time they're 16 but nobody actually does, some new text for your 'East Anglian Frog News' website, or almost literally anything else, we have the writers you need. And if we don't, we'll go and get some.
Of course, our writers' skills and preferences vary – they are human, after all. Below, you'll find some of the topics they like, some that they know a lot about, and some things they're not quite so keen on, just for a laugh…
Fitness

Lifestyle

Property

Health and wellness

Music

Self help/development

Business

Parenting

Travel/Tourism

Pets

Personal finance

Animals

Digital and online trends
Art

Digital marketing

History

Retail

Design (interior design, print, digital etc)

Movies and media

Technology

AI and Industry 4.0

Robots

Natural medicines

Indurvedic herbs and plants in general

Photography

Anarchy!
Healthcare… "conflicting research is fun!"

Social media

Elderly care

Politics

Education (all ages)

Psychology

Mental health

Web content, product descriptions, blogs generally

Electrical and mechanical components

Tiles, carpets & domestic product descriptions generally

Accountancy

Catnip highs
Phew! Quite a list. But that's just a selection of their favourite topics. Here's a few that some of them remembered in a slightly less positive light:
Brexit: "I will hold a little party when I no longer have to write about Brexit."
Luxury goods: "I don't like writing on luxury topics/high end retail, as I don't identify with that world at all. (Ask me after a lottery win and I might change my mind)."
Diggers etc: "I would rather go and live in a ditch than write another word about Australian mining equipment."
Er… workplace 'issues': "The strangest thing I have ever written is a piece on how to poo at work."
However, bear in mind that we do have plenty of writers who are more than happy to write about Brexit, luxury retail, mining equipment, and lavatorial practices. You only have to ask.